Xiamara first met Apollymi when they were both young. They grew up together as friends and later allies. There was nothing the Charonte demon wouldn't do for her friend. Nothing. The same held true for Xiamara's children: Xirena, Xedrix and Simi. Even though Xiamara was a demon, her heart was true and she gladly took the guardianship for Apollymi's only child, Apostolos. When she pledged her life to protect Apollymi and her son, she meant it. She died trying to protect him from Apollo.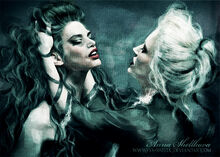 Ad blocker interference detected!
Wikia is a free-to-use site that makes money from advertising. We have a modified experience for viewers using ad blockers

Wikia is not accessible if you've made further modifications. Remove the custom ad blocker rule(s) and the page will load as expected.