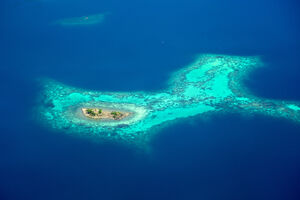 Introduction
Edit
Neratiti is Savitar's mystical island home. It floats, so the precise location can never be determined. It is also cloaked so that no one can teleport to it without an invitation from Savitar.
The meetings of the Omegrion are held in a lavish council room: "The large circular chamber was decorated in burgundy and gold. Through the open windows that spanned from the black marble floor to the gilded ceiling, she could see and hear the ocean on all sides of the room. Oddly enough, the entire room reminded her of an ancient sultan's tent. Lavishly decorated, it had an enormous round table in the center..."[1] Since Savitar is only the mediator and not a council member, he sits in a throne to the side of the table.
Appearances
Edit
Unleash the Night
Edit
"Shadow of the Moon"
Edit
One Silent Night
Edit
Bad Moon Rising
Edit
Dragonbane
Edit
References
Edit
↑ Dragonbane, page 278
Ad blocker interference detected!
Wikia is a free-to-use site that makes money from advertising. We have a modified experience for viewers using ad blockers

Wikia is not accessible if you've made further modifications. Remove the custom ad blocker rule(s) and the page will load as expected.